Seven Steps to Digital Transformation
As the digitization of water accelerates, utilities can follow a step-by-step process toward their digital transformation.
The digital water market is on a steep growth trajectory, outpacing the broader municipal water and wastewater sector over the next decade.
Becoming a digital water utility is a necessity for addressing aging infrastructure and increasing water scarcity, stress on water systems, urbanization and extreme weather events.
Optimization of water resources is a big job. When $40 billion a year is lost in revenue by water companies globally because of non-revenue water (NRW), the water industry needs a large workforce to fix these problems.
Building a sustainable digital water utility can seem overwhelming and possibly inequitable. But, knowing that many industries have been through a digital transformation, or are going through one, gives us a lot to learn from — including confidence that the result is overwhelmingly positive.
Acknowledging the Barriers to Adoption
There are a lot of reasons why the adoption of digitization is taking longer in the water industry than in other industries. Old legacy systems often keep data in silos, making system integration and interoperability a big hurdle. Fortunately, the Internet of Things (IoT) is making this easier with cloud native platforms that are data agnostic — the technology industry knows this is a key driver to getting everyone on board and to seamlessly integrate new capabilities.
Cybersecurity is another growing concern that gives rise to a whole new set of fears. Today, the biggest and brightest IT players in the market have developed cloud security software tools that are layered into most of the mainstream water utility platforms.
There is also still a fear of technology, especially in a water industry that has a large aging workforce and has been accustomed to a defined role where their experience is their biggest asset. Giving those defined responsibilities to a connected device can be perceived as a threat. In addition, they may not be as comfortable with technology as the new generation entering the workforce.
Thankfully, many cloud hosted technologies are designed to be user friendly and intuitive with customizable visual dashboards, alerts, and automated processes. Cloud hosting also offers a maintenance-free solution for utility IT departments. There is no need for local installation, debugging or upgrading of software. Everything is managed in the cloud and all a user must do is log in to get access to the most recent version of software.
The most profound challenge for building a digital utility is that no utility is alike, which means there is no one -size-fits-all solution. Some utilities have smaller budgets, some are more advanced, population sizes vary and distribution systems are unique. The one commonality is that all water utilities are on this journey toward digitization — albeit at different points of engagement. This has led to a non-linear transformation in bite-sized chunks, enabling all utilities to develop one step at a time as individual needs and opportunities arise.
Stages of Digital Transformation
To become a digital water utility, the utility must internally evolve from a physical layer of linear and vertical assets with no data, to deploying sensors and analyzing the data into meaningful knowledge that supports business goals.
The Seven Stages of Digital Transformation have been adapted from the Smart Water Network Forum (SWAN), a global non-profit organization focused on advancing digital transformation in the water and wastewater industry. The physical layer (level 1) is the foundation that each utility has. It includes the pipes, pumps, valves and other devices on the system. Most utilities have achieved level 2, sensing and control, to some extent. The types of sensors and control vary across utilities and many new sensors are developed to meet evolving demand. Making existing infrastructure intelligent with sensors has already decreased the time and effort of monitoring.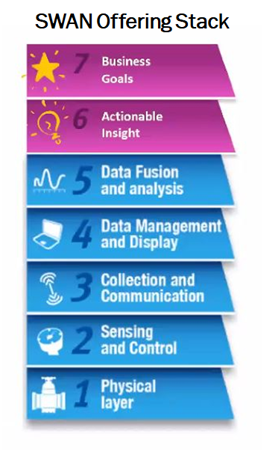 Based on size and budget, some more progressive utilities are working on levels 3, 4 and 5. Level 3 consists of deploying a wider array of sensors either using advanced metering infrastructure or IoT devices connected directly to cellular networks.
Levels 4 and 5 are achieved by collecting near real-time data from different sources. The data is then combined and analyzed using a variety of techniques to develop dashboards for network analysts and operators to monitor system performance. This information is used by operators to make informed, data-driven decisions to operate remotely and optimize the efficiency of the system.
Levels 6 and 7 are where the leading-edge utilities are partnering with technology companies to trial new tools/solutions. These tools/solutions are integrating knowledge generated from sensors and historical network data with artificial intelligence and machine learning algorithms to help utility leaders turn knowledge into actionable insights and improve asset planning based on predictive outcomes to meet their long-term business goals.
Identify a Problem
Regardless of their stage in digital adoption, every utility has a problem to solve on a daily basis. Every problem is an opportunity point for a digital injection. Speak to your neighboring utilities to see how they are addressing problems like infrastructure failure, water quality issues, limited budgets, under resourced workforces, customer issues or asset management. Do your research and reach out to industry partners that you work well with. Ask them how they would solve your problem with a digital perspective that brings you one step closer to being a sustainable digital utility.
Pilot a Solution
Pilot projects are an excellent proof of concept and tend to make it easier for a utility to take a leap of faith on a small scale. It gives utility leaders, as well as operators, the opportunity to learn from the process and fine tune the outcomes to meet their goals and individual requirements. With measurable results in hand, it is much easier to determine costs and savings to be expected on a larger scale deployment. Pilot projects also tend to foster a culture of innovation: utilities get to try something new with measurable outcomes and, if the results are good, it can be very exciting and motivating.
Measure the ROI and Reinvest in the Next Solution
Most digital solutions will deliver a measurable return on investment (ROI), whether it be in budgeting, resources or customer satisfaction. The benefit of integrating and sharing data across departments and with multiple stakeholders is often of great value, but is harder to measure.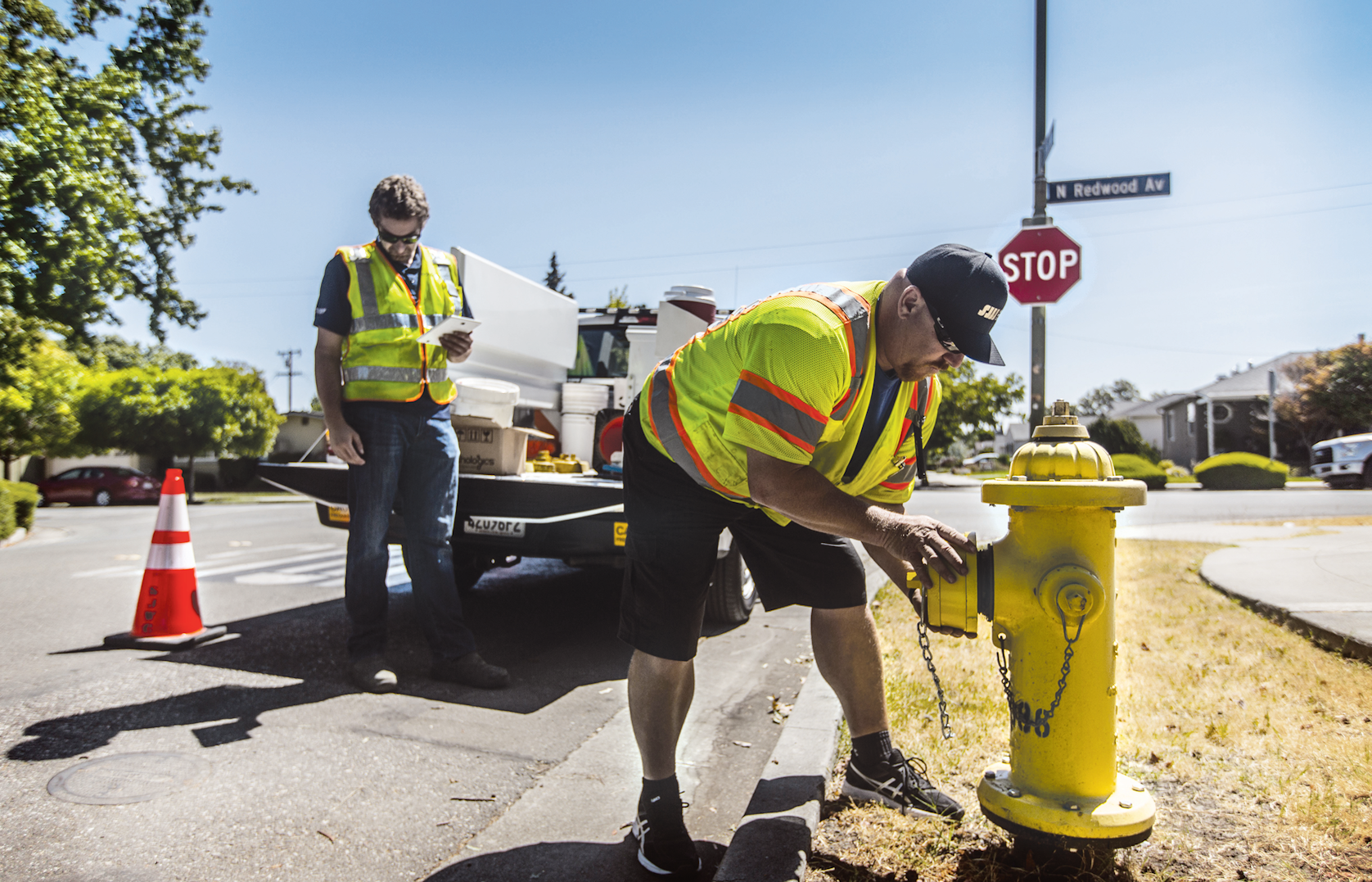 For example, advanced metering infrastructure has operational efficiencies like remote disconnect metering, saving crews time and reducing safety issues relating to field work, delivering accurate billing and improving customer satisfaction. In other words, it touches multiple departments, spreading out the ROI but not always measuring that ripple effect. When a utility can model ROI, it makes a much stronger case for investing in assets that will lower costs or improve services in the long run.
Buy-in for the Whole Organization
This seems obvious, but it is a common downfall that is not unique to water utilities. If part of the organization is enthusiastic and embraces a rapid transformation, and part of the organization is not, your endeavor will not be as successful as it could be with buy-in from your whole organization. Addressing every fear with a viable solution is a critical step to get every member of the team on board.
Become Data Agnostic
Having data sets in one central platform allows you to use the data for many purposes, from monitoring and operating to budgeting and asset management. Ensure that your digital platform is built on open architecture and standardization so that application programming interfaces (APIs) can retrieve data from any software application. This way you can retrieve historical or active sensor data from legacy systems. In many cases you don't need to throw out old data; you can bring it into the new platform.
Align With Partners That Can Grow
A short lifespan is common in the technology sector. New technology companies are often gobbled up by the bigger players striving to maintain innovation and market share. In some cases, a company's survival requires going deep into a specialization, which can result in limiting a utility's options. Partnering with trusted vendors that understand the water industry will likely work best.
Leverage your Existing Infrastructure
This is obvious and makes fiscal sense. A lot of water infrastructure was built to last decades, and with maintenance and rehabilitation that can often be stretched even further than planned.
Turning "dumb" infrastructure into digital infrastructure is possible with the addition of sensors. Who would have thought a hydrant would also become a remote pressure monitor and a leak detector device? Today, there is no need to replace the hydrant — only to retrofit it.
The Future is Bright
While the last year put a pause on many infrastructure projects, it did not pause the development of technology solutions. Advancements in technology have compounded with time, raising opportunities to resolve water issues with a digital transformation. The new tech-savvy generation entering the workforce is expected to accelerate digital transformation into a "no-collar" workforce, a hybrid human/machine environment that continually adapts and learns new skills as technology inevitably evolves.
Internally, a digital utility uses data insights to do predictive maintenance and continually improve processes and workflow. These improvements reduce operational costs, optimize asset management and improve revenue. Externally, a digital utility can service its customers better with reliable water and extensive information such as consumption, predictive billing, and conservation. WW
About the Author: David Johnston is the director of smart infrastructure for Mueller.
Click here to read the article in Water World