Dosetech Customises Complete Fire Protection System For Cape Town's Foreshore
Over the past few years, the Foreshore area of Cape Town has been a hub of development, with new buildings and major projects transforming the landscape of the city's waterfront region. Nestled between the harbour and the city centre, the Foreshore area is a vital part of the city's social and economic infrastructure.
As buildings spring up throughout the area, one of the most significant challenges is ensuring that the projects are protected from fire hazards and are in compliance with stringent local and international regulations. DoseTech, a leading South African supplier for fire protection equipment, has been responsible for two of the most signifi- cant fire protection projects for land- marks in the Foreshore area, namely the Christiaan Barnard Memorial Hospital and the Cape Town Harbour.
Given the vital civic functions of the hospital and the harbour, robust fire protection was a key point of con- sideration. "When you are protecting a hospital full of patients and harbours that are stocked with fuel and other highly flammable substances, you need to ensure that you have the best equipment engineered to handle the worst-case scenario," says Mike Feldon, Managing Director of DoseTech.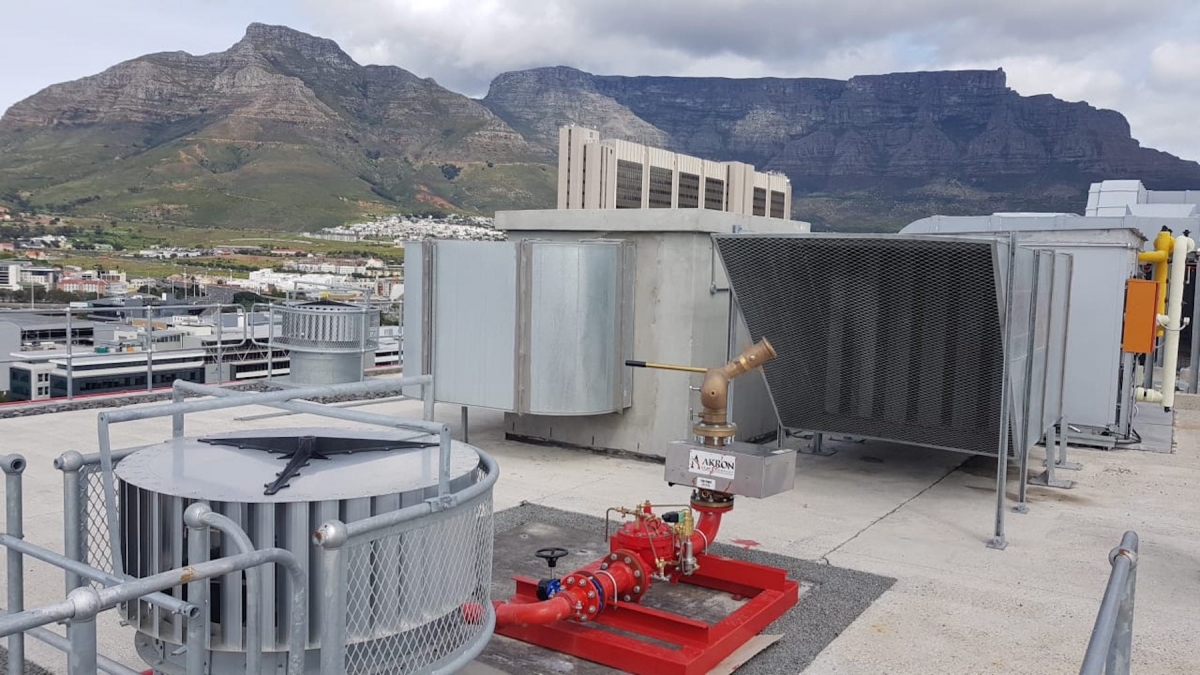 Protecting important infrastruc- tural elements like the Cape Town harbour and one of the city's most modern hospitals required compliance with strict standards from FM Global (FM) and Underwriters Laboratories (UL). "It's not uncommon for engineers to think that fire protection requires API (American Petroleum Institute) certification and connections, but this is not actually the case," comments Feldon. To achieve UL listing and FM Global approval, Feldon worked closely with process design engineers from both the Cape Town harbour and the Christiaan Barnard Memorial Hospital. In addition to employing some of DoseTech's industry-leading foam-dosing products, the team selected the most effective and proven fire protection solutions from the internationally recognised company, Mueller Water Products, Inc.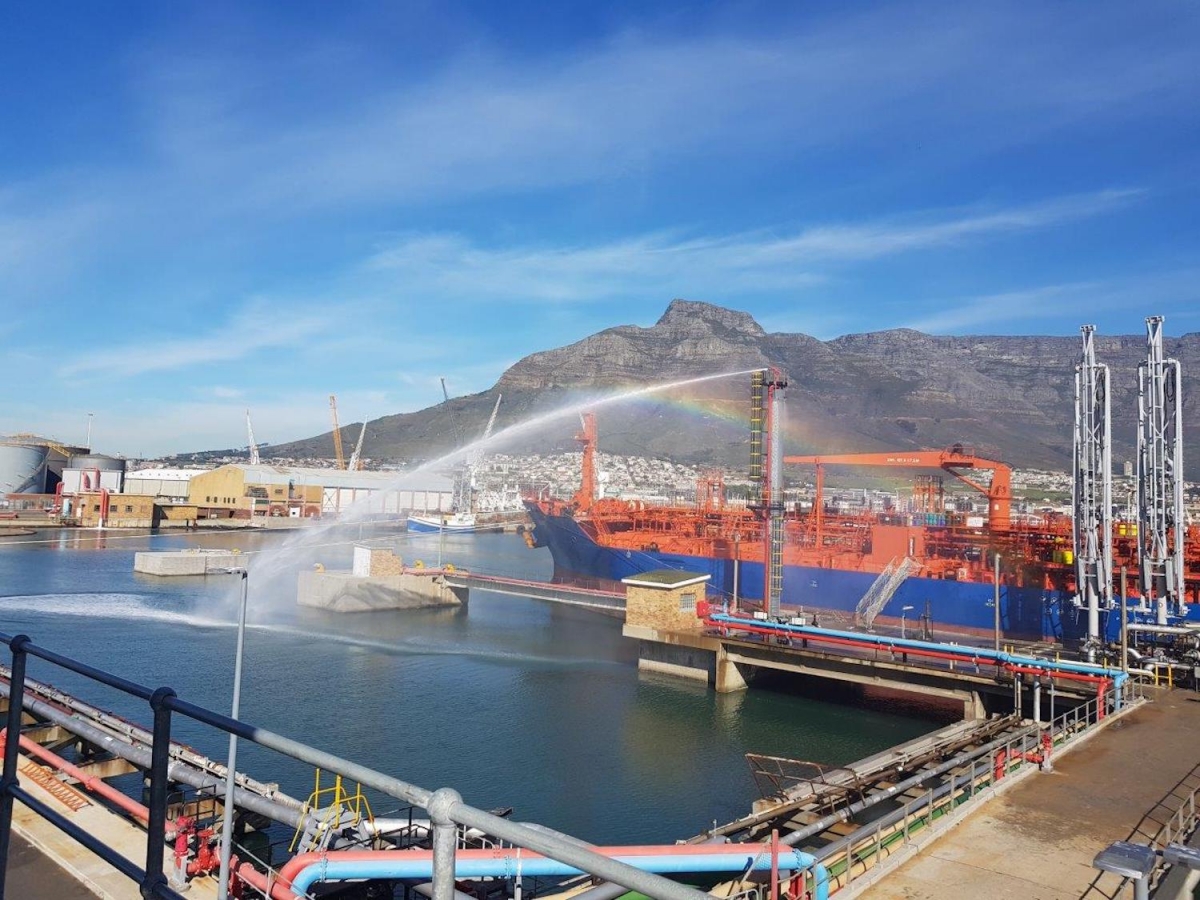 Netcare Christiaan Barnard Memorial Hospital
For over three decades, Netcare Christiaan Barnard Memorial Hospital has provided healthcare – including several highly specialised medical disciplines – to South African residents from its original premises in the city centre. In late 2016, the hospital relocated to new premises in the Foreshore area, occupying a purpose-built 16-storey building strategically located for access from major freeways. A key aspect of the hospital access is its helideck, enabling safe helicopter transportation of patients with life-threatening injuries or illnesses. DoseTech was tasked with devising a fire protection system for the new helideck. This presented particularly complicated challenges, not only because of the varied fire protection technologies involved, but also because of the required coordination between Cape Town Fire and Rescue Service, DoseTech, and South Africa's national aviation and hospital authorities.
The new hospital's comprehensive fire protection design includes foam- dosing technology, foam concentrate, water cannons, and a combination of deluge and pressure-reducing valves. Manufactured by Mueller Water Products, Singer® deluge and pressure-reducing valves are able to be electronically controlled from the master control room. In the event of a fire on the helideck, the deluge valves automatically activate three separate foam-and-water-premix water cannons in addition to the foam-dosing system.
The new premises of the hospital now has a state-of-the-art fire protec- tion system to match its world-class cardiac operations facility.
Cape Town harbour
The Cape Town harbour is one of the busiest and most strategically important ports in South Africa due to its posi- tion at the crossroads of industrial and ocean-trading routes. In addition to serving tourists arriving to Cape Town on cruise ships, the harbour also plays a vital role in the region's thriving fishing and oil industries. Given the equipment and fuel transported in and out of the harbour on a daily basis, a decent fire protection system is essential to ensure safe operations.
DoseTech was asked to address three different fire protection needs, each a complicated challenge relating to the harbour's petroleum operations. The first was a fuel ship off-loading wharf, an intricate facility requiring a multifaceted fire protection system.
To ensure comprehensive protec- tion, DoseTech supplied equipment installed on the fire water ring main for the general fire protection systems, which includes fuel tanker loading bays and 5-inch flat hose water supply, for use on portable firefighting equipment.
The harbour's second and third tasks were to protect a fuel storage fa- cility and a refinery, both of which re- quired a large number of fire hydrants to provide adequate response in case of an emergency. To protect these key areas, DoseTech installed Jones® J4060 BR and J6200 fire hydrants, complete with 21⁄2-inch British instantaneous couplers and 4- and 5-inch pumper connectors. The system was bolstered by Mueller® OS&Y gate valves, chosen because of their durability and ease of operation. The gate valves seal shut under high pressure and use a strong interior coating to provide years of reliable service.
By providing tailored, reliable solutions to each of the harbour's needs, DoseTech's team exceeded the demanding expectations of the Cape Town harbour project leadership. Each fire protection system combined multiple technologies to ensure an immediate and adequate response to any fire emergency, delivering safety and peace of mind to a facility re- sponsible not only for the handling of volatile materials, but also for the safe arrival of cruise ships carrying many tourists into the harbour.
DoseTech offered valuable ex- pertise at every step of the process, working side-by-side with on-site contractors, conducting valve and hy- drant commissioning, and providing staff training to those responsible for overseeing proper operation of the fire protection system. "By combining our product experience with the location-specific expertise of harbour personnel, the Port of Cape Town now has a world-class fire protection system in place for years to come," Feldon concludes.